Early process and cell line development using the Ambr® 15 multiparallel bioreactor, can support between 24 - 48 parallel cultures of 5 - 15 mL samples. Preparing these samples for CQA analysis is a multi-step, labor-intensive, and error-prone process that drains resources. To make this process easier for scientists, Sartorius developed the StreamLink CC 15® - the first automated high-throughput system that simplifies the preparation of mAbs sample volumes of 5 - 15 mL. The one-step clarification and purification process accelerates sample preparation while continuously maintaining quality through automated and optimized protocols.
Automated system for the preparation of mAbs samples
StreamLink CC 15® is the latest innovation from the Sartorius range of bioprocess technology. This automated system ensures high-throughput processes based on optimized protocols. The system ensures continuous quality, which combined with an integrated error detection system, requires minimal operator presence and worry-free operation. Automation reduces work time by 45% and hands-on time by 30%.
Work automation | "Walk-away" - Fully automated, reproducible and high-throughput error-correcting processes ensure high-quality preparation of antibody samples from cell culture.
High throughput | Time savings - The system clarifies and purifies antibody samples, delivering 24 samples for CQA analysis in 2 hours, and 48 samples in 4 hours.
Workspace & labor demands economy - StreamLink CC 15® introduces integrated preparation of antibody samples, saves space and time and simplifies workflows.
Compatible integration - The system is fully compatible with Ambr 15 bioreactors or any suspension cell culture, simplifying protein purification and purification for CQA testing.
What are the advantages of the StreamLink® CC 15 system?
Automated sample preparation procedure
leverage automation for a fully walkaway process
automation introduces reproducibly with the robotic liquid pipettor
built-in error recovery to reduce errors and downtime.
detailed data recording and auditing for extended data analysis capabilities
Clarification and purification in one step
streamline clarification and purification into a single process for maximum efficiency when processing low volume samples (5-15 mL)
predefined templates to simplify process definition
simple but flexible with process selection user-customisable parameters.
easy-to-use wizard-style setup on an interactive touchscreen and for intuitive navigation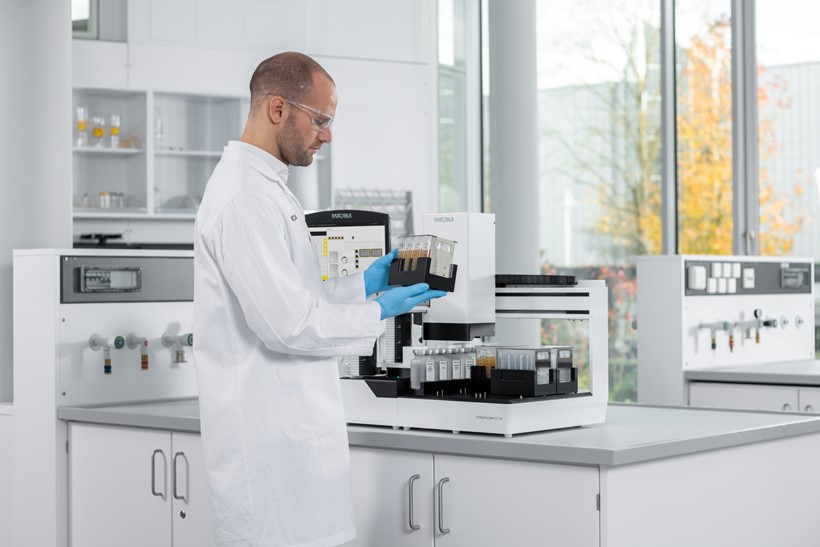 Ambr® 15 compatible technology
prepare mAb samples from Ambr® 15 or any other suspension cell culture
streamline workflows
system capacity 48 bioreactor samples designed for Ambr® 15
More functionality and economy of working space
save lab space with a single all–in-one benchtop system
eliminate need the need for centrifugation, filtration, and chromatography systems
The StreamLink CC 15® system supports a range of applications - clarification and purification processes can be selected as separate or combined. Defining parameters such as pressure limits and flow rates ensures that you meet the requirements of different cell lines and antibodies.
Read more about the StreamLink CC 15® system.